We want to ensure you start your cancer treatment as fit and as healthy as possible. We recognise that everyone is different, including their level of health and fitness. This means at the point of cancer diagnosis some individuals will have a high level of fitness, others a low level and most somewhere in between.
Prehab in your area may include the following support:
Face-to-Face fitness Physiotherapy / Personal Trainer support clinics over a range of locations across the county
Access to a range of leisure centres and pools across the county
Pre-recorded online video content available in this page
Use of Physiotools exercise videos online.
Exercise will help you build up your cardio vascular fitness and strength. This shouldn't be strenuous, but enough to get you going.
Activity for everyone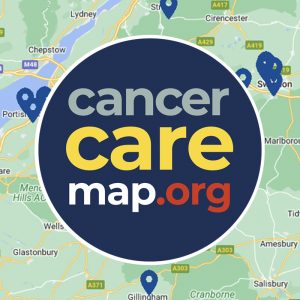 We are delighted to share the details of multiple exercise groups across Somerset, Wiltshire, Avon and Gloucestershire to enable access to closer to homes, including gym and swimming facilities.
We've linked up with Cancer Care Map to help you find your nearest Exercise and Activity centre. Click on the Cancer Care Map logo, this will take you to their website where you can search, using your postcode for services near you.
30 minutes of activity a day
Following your diagnosis, there may be a temptation for your friends and family to do things for you. Exercise will help both physically and mentally, and many day to day activities can be a good form of gentle exercise.
20-30 minutes of activity every day is a good goal. This could be a 10-15 minutes activity in the morning and then another 10-15 minutes in the afternoon.  When you are comfortable with this level, you may want to increase your level of exercise.
Yoga, Swimming, Pilates
Running / Jogging, Cycling (home exercise bike or out on the road)
Socialising, Dancing, Zumba
Gardening
Playing with your children or grandchildren
Housework including, cooking, vacuuming, washing up ironing and laundry
Completing day to day activities whilst standing
Avoiding sitting down for long periods of time
Walking up the stairs
Walking outdoors or walking to the local shops and carrying your shopping
Getting you started with exercises
We have a number of videos to help and inspire you to get started with your exercises. Below is the first of these, introducing you to HIT for patients.
There are plenty of other videos to help you along the way. Here's a link to them.
Prehab Professional - sample menu