The Somerset, Wiltshire, Avon and Gloucestershire Cancer Alliance is committed to ensuring that the voices of people affected by cancer are at the heart of service improvements.
Its vision and approach:
Is to improve outcomes and experience of care for the cancer patients and populations of Somerset, Wiltshire, Avon and Gloucestershire.
As a membership network its purpose is to ensure patients are at the heart of the system and to add value to and support the delivery of the National Cancer Programme and NHS Long Term Plan .
Works collaboratively to plan and deliver improvements locally and across the wider system, sharing learning, good practice and resources across organisations.
Patient Quote
"As a Sarcoma patient I have found being a Patient Representative has been most interesting, especially in connection with what new procedures are being considered and trailed, all with a view to improving Sarcoma cancer treatment. 
I have also found the medical members of the SWAG very supportive when points are raised by the Patient Representatives."
Ways to Get Involved / How to Get Involved
By sharing your experiences and opinions, you can help make sure that the care provided is what people really need and help shape cancer services across the Somerset, Wiltshire, Avon and Gloucestershire Cancer Alliance.
Your involvement and action can make a big difference. There is a range of options in terms of time commitment and you can get involved in several ways including undertaking surveys, reviewing leaflets, helping develop training programmes for clinical staff, or acting as a patient representative on a cancer group or at cancer meetings.
The buttons below will take you to current opportunities to be involved
National Quality of Life Survey for Cancer Patients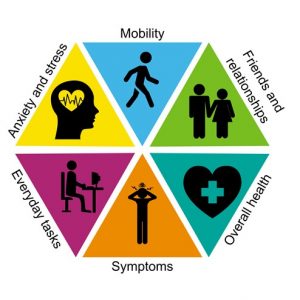 The Cancer Quality of Life Survey is a national survey run by NHS England, NHS Improvement and Public Health England. The survey is for people in England who have been diagnosed with cancer. From 2020, people who have had a breast, prostate or colorectal (bowel) cancer diagnosis are being asked to complete the survey around 18 months after diagnosis regardless of whether their treatment has finished or not. This will be extended to all cancer types over the coming year.
The aim of the survey is to find out how quality of life may have changed for people diagnosed with cancer. We want to see what impact a cancer diagnosis and treatment has on people, where care is working well or not so well, and if any new services are needed. To do this, we're asking how people who have experienced cancer are feeling and comparing their answers with information about their cancer diagnosis and treatment.
It is reasonably well known that there can be long term quality of life issues resulting from cancer treatment. This survey is an opportunity to gain evidence to help us to improve the way we support people to live as long and as well as possible.
For more information visit the Cancer Quality of Life Survey Webpage: http://www.cancerqol.england.nhs.uk/index.html
National Cancer Patient Experience Survey
The National Cancer Patient Experience Survey was first undertaken in 2010, and has been designed gather the views of patients.
The findings support  monitoring national and local progress on cancer care; provide information to drive local quality improvements; assist commissioners and providers of cancer care; and inform the work of the various charities and stakeholder groups supporting cancer patients.
Healthwatch
There is a local Healthwatch in every area of England.
Your local Healthwatch helps to find out what people like about services, and what could be improved, and they share these views with those with the power to make change happen.
Healthwatch also help people find the information they need about services in their area.
Healthwatch Bath & North East Somerset
Healthwatch South Gloucestershire