National Clinical Nurse Specialist Day – Wednesday 26 April 2023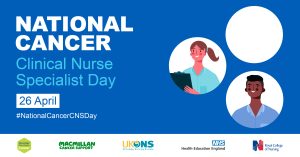 WEDNESDAY 26 APRIL 2023 is our 2nd National Cancer CNS Day. Join us to show support and appreciation for our Cancer Clinical Nurse Specialist Workforce #NationalCancerCNSDay
What our Clinical Specialist Nurses say:
I genuinely enjoy coming to work. There is never a day when I have to force myself out of bed.
I know that what I do is helpful to patients and I sleep well at night knowing that I have done my best for them.

Being a CNS gives me the opportunity to focus on a discrete group of patients and we get to know them really well.

We know about their families, their pets, their hobbies, where they go on holiday… no aspect of their lives go unnoticed.

They are reliant on us and when they are desperate and no one else will pick up the phone they know that they can come to us to help them problem solve

No two days are the same. One day I can be trying to get a seriously unwell patient into hospital and the next I can be helping a patient get a grant to pay their bills.
The team I work with are phenomenal. They are so generous in sharing their knowledge, time and skills and this approach ensures that our patients receive the best possible care.
It is the best job. If you want to have a level of autonomy in your work and provide care that is patient centered, then the CNS role is for you.
Adrienne Howe – Melanoma  Specialist Nursing Team   
What gets you up in the morning – I love that no day in my job is the same! Each day is a different type of clinic, or my job responsibilities are different. It keeps me excited to come into work and I am constantly learning or in new situations that widen my experience. I also think lung cancer patients are the best people to work with!

Why do you like being a CNS – I love being a CNS within lung cancer because I am passionate about improving the service/experience these patients receive after diagnosis and throughout their lives. I have always had an interest in lung cancer, and I get so many opportunities within my role to advance my knowledge and clinical skills. Our patients feel comforted that we are just a phone call away with specialist advice and it is a privilege to be able to support people during the most difficult times in their lives. My team and I go home every day knowing we have helped somebody and delivered a quality service. We are very much a nurse led service and this makes us proud of what we have achieved!

Top tips for anyone thinking about becoming a CNS – For me it was key to gain lots of general experience within nursing first! I worked in ED for around 7 years. I also did a secondment within acute oncology, and this was a great stepping stone before applying to be a Lung Cancer CNS! If you want to work autonomously and have opportunities to expand and improve patient care/services, then this is the job for you!

Or anything else about you and your role – One of the best things about being a CNS is you are a specialist within your role, and this means you have extensive knowledge and advanced skills within your speciality!
Olivia Rabjohns – Lung Cancer Nurse Specialist