World Occupational Therapy Day (27.10.2021): Spotlight on Two of Our South West Occupational Therapists
Occupational Therapy Day was first launched on 27th October 2010. Since then, it has become an important date to promote and celebrate the profession internationally. The theme for this year's day is "Belong. Be You."
Occupational Therapy is a healthcare profession that focuses on developing, recovering, or maintaining the daily living and working skills of people with physical, mental, or cognitive impairments. It aims to enable people to participate in the activities of everyday life.
"Occupational Therapists are very good at analysing where a person is at and what they want to achieve and to regain," Dr Anne Johnson, Consultant Occupational Therapist at the Bath Centre for Fatigue Services, Ambassador Personalised Care Institute, said. "And they also help people to adapt to what they've lost.
"People who lose the ability to do the things they want experience grief, which is akin to bereavement. They're grieving for the loss of self. Occupational Therapists are very good at recognising that and helping people locate themselves again so they can regain quality of life."
To mark World Occupational Therapy Day, we spoke to two Occupational Therapists in the South West to learn a bit more about their challenging yet rewarding careers.
Kirsty Hastie
Kirsty Hastie has been an Occupational Therapist for the past 20 years. She is currently a Macmillan Specialist Occupational Therapist for the Therapies Oncology Team at Royal United Hospitals Bath NHS Foundation Trust. Her team provides support to people living with and beyond cancer from the point of diagnosis onwards. She works both on the inpatient ward and with outpatients.
Prior to this, Hastie worked as a Macmillan Occupational Therapist in the community in South Gloucestershire, and at the Bath Centre for Fatigue Services with people with cancer-related fatigue as well as fatigue related to other long-term conditions. Before that she worked in neuro rehabilitation at the Royal National Hospital for Rheumatic Diseases. She's also done a rotation (community and inpatient) in Tower Hamlets and Newham in London.
What she enjoys most about her work is helping to support people to live the kind of lives they want to.
"It was really that ethos that made me want to become an Occupational Therapist," Hastie explained. "There's more to being well than just having a medical solution."
Some of the biggest challenges in her role include ensuring that services are delivered equitably and keeping up with new and exciting innovations. The coronavirus pandemic has also proven to be a hurdle.
"We try to see people face-to face whenever we can," Hastie said. "That's been much more difficult during the pandemic, though virtual appointments work well for some."
Hastie also looks forward to a return to more face-to-face appointments and events.
"It's difficult enough for people who get cancer, but especially during the pandemic," she explained. "Prior to the pandemic, we used to run a number of face-to-face events. There's something very empowering about that and it's difficult to replicate in a virtual world."
In her spare time, Hastie enjoys spending time with her two children, as well as cycling and swimming. She also likes to work in her allotment.
"I mainly grow couch grass and bindweed on it," she joked.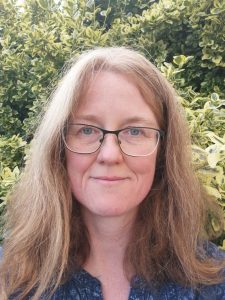 Hannah Gurney
Hannah Gurney is an Occupational Therapist at University Hospitals Bristol and Weston NHS Foundation Trust. In August 2021 she began her role with Macmillan Cancer Support, where she offers an outpatient service supporting patients living with cancer and living beyond cancer. She supports patients with fatigue, breathlessness, anxiety, pain, body image, return to work and changes in cognition, enabling individuals to engage in their roles and activities they enjoy.
"Our client group is very vulnerable so during the pandemic we've tried to do things from a distance if possible," she explained. "We mainly offer telephone support, but we do have the option to bring patients into clinic if necessary."
Gurney qualified back in 2001 but has had numerous career breaks to bring up her children. She has worked in various settings including acute, social services and in the community supporting patients and their carers in their own homes.
One of the most rewarding aspect of Gurney's role is simply being able to help people and their families.
"I really enjoy seeing an improvement in patients," she said. "One of the great things about Occupational Therapy is we don't just look at physical well-being. We look at cognitive emotional, spiritual well-being as well and look at how the disability or the illness impacts on all of those areas."
For Gurney, the biggest challenge in her role is not always having the resources they'd like in terms of space, staffing and time to provide the level of support they'd like to. The pandemic has also been an obstacle.
"One of the biggest challenges in the pandemic has been being able to link in with other services," she explained. "For example, we all know how stretched GP practices have been. With the lockdowns, we've also had a lot of patients out in the community that we've had to support. It's been very busy and we've had to work quite flexibly. But I think that's also really shown the value of teamworking and the resilience of the staff."
In her spare time, Gurney enjoys taking long walks with her dog, swimming, socialising and spending time with her children.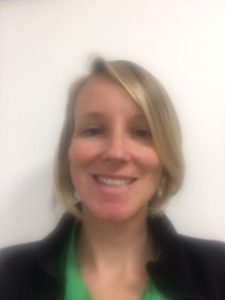 Additional information on World Occupational Therapy Day can be found via the following link.