Prehabilitation Programmes
Why Develop a Prehabilitation Service
There is clear evidence that enabling people to access a prehabilitation service can help them to build up prior to having an intervention and therefore that they would recover better following on.  The analogy  that is often used is that you wouldn't get up one day and run a marathon, but there will need to be a lot of preparation, both physically and mentally, to go through such an intense activity, and that preparation for surgery is similar.
Specifically with Cancer whilst there is a relatively small timeframe that is available between diagnosis to the first intervention there can be significant progress that can be made and it can make a significant difference to both patient outcomes and also to patient experience. The better prepared a patient is for their intervention and the greater their understanding of what they are likely to experience, the more comfortable they will feel and the better the outcomes outcomes will be.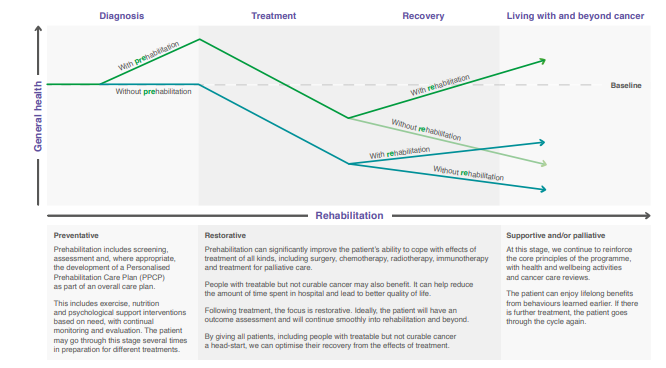 We are working with our ICS and our Trusts to help support them to develop prehabilitation programmes and are linking best practice together.
This includes:
The Alliance also works closely with:
Macmillan Cancer Support
Cancer Research UK
We expect programmes to include a mixture of services as outlined in the guidance to support patients includinv Universsal, Targeted and Specialist sercices.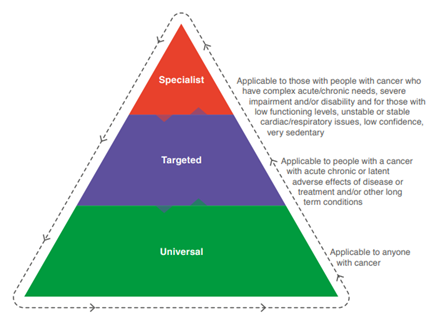 Service Expectation
We would expect patients to be supported with a range of services including but not exclusively:
Exercise,
Nutrition
Mental Health and Wellbeing
Useful Supporting Information
There are a range of handouts that may be helpful.
Also some useful links: